View Contract History
04 Nov 2022

1 Minute to read
View Contract History
Updated on 04 Nov 2022

1 Minute to read
---
View Contract History
Contract Details: Viewing a Contract's History
Contract Insight allows users to view the activity log for each contract.
Viewing a History Log
1. Click View History on the side menu of the Contract Details screen.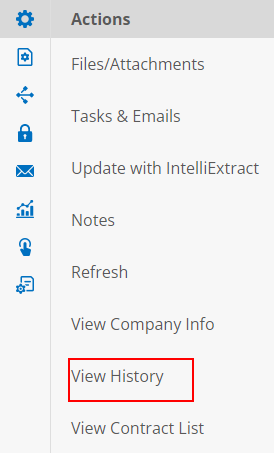 2. The History Details screen for the contract record displays.

This screen allows you to view the details for each event related to the contract. This includes the employee's first and last name, the event that took place (such as viewing the contract), the date the event occurred, the employee's ID, the contract's record ID, as well as the table name.

Exporting an Activity Log
From this screen, a user may also export the history details table to MS Excel.
1. Click Export to Excel on the side menu of the History Detail screen.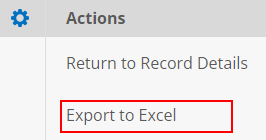 2. Upon selecting Export to Excel, the export may immediately start downloading or a pop-up menu asks to either Open or Save the file.
3. Click Open With and click OK in the box. An alert may appear telling you that the file is in a different format than the file extension, to verify that you trust the source, and would you like to continue opening the file.
4. Click Yes to continue to export the file to MS Excel.
---
Was this article helpful?
---
What's Next