Online Report Designer
04 Nov 2022

1 Minute to read
Online Report Designer
Updated on 04 Nov 2022

1 Minute to read
---
Online Report Designer - Insight Reporter
Searching & Reporting: Online Report Designer (Insight Reporter)

Contract Insight has a fully customizable, online report designer that offers users complete control over the appearance, layout, and information on each report. The drag and drop report designer feature is very similar to the functionality found in other 3rd party reporting tools such as Crystal Reports, Business Objects and Cognos. This report designer can greatly improve upon the appearance of simple canned-reports and allow users to create very complex, technical reports that include text, images, graphics, variables, conditions, cross-tables, multiple data summary options, and much more. With numerous exporting options including Word, Excel, PowerPoint, PDF, CSV, Rich Text, Image formats, and many more, CobbleStone Systems Custom Report Designer offers robust querying and reporting capabilities.

Create a Custom Report

Navigate to Reports/Searches > Report Designed > Design a Custom Report.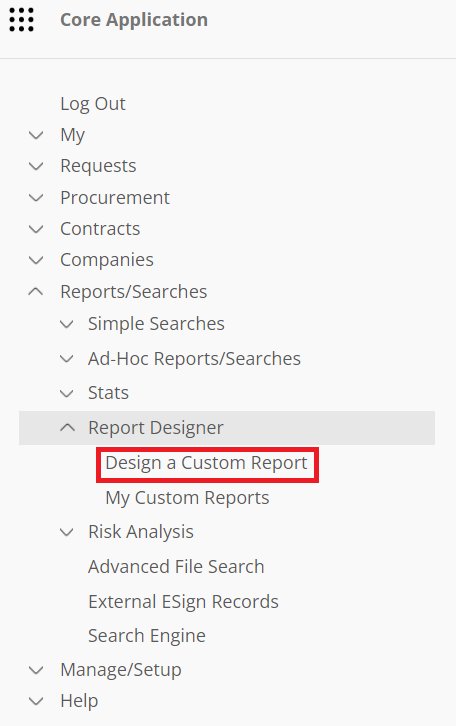 To create a new Report Designer, first provide the name of the Custom Report.

Next Select the type of report data to with which to work.
System Defined

The standard reporting areas of the application.

Ad-Hoc Reports/Searches

List of all created ad-hoc reports within the application.

Legacy Custom Searches

List of all created legacy custom searches within the application.
a. System Defined checklist (select as many as desired).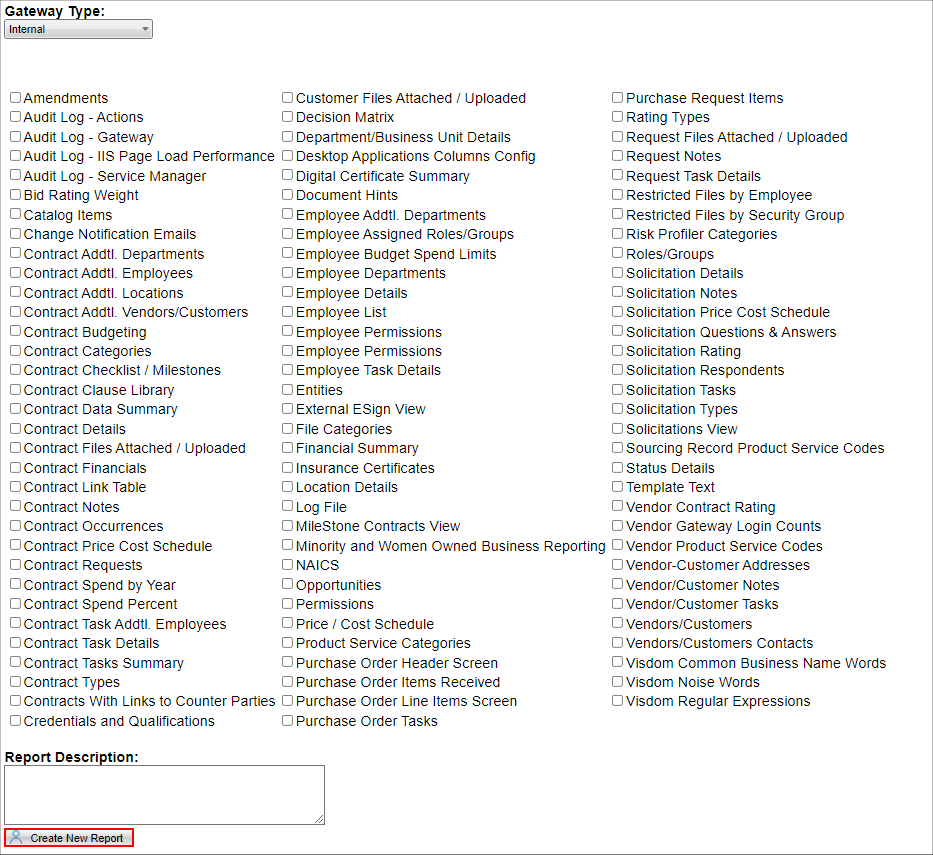 b. Ad-Hoc Reports/Searches and Legacy Custom Searches will display all of the reports/searches created/defined in the application for each. As many as desired can be selected.

Provide a description for this report (if necessary). Once all of these pieces are completed you are ready to generate a new report designer.

To generate a new report designer, click Create New Report to generate and load the Online Report Builder interface.

The online interface will load.



Once the Report Builder interface has loaded, the Report Builder is available for use:






My Custom Reports
An Administrator can create report builder reports and assign users the appropriate permission to view and execute the reports. The reports display under Reports/Searches > Report Designer > My Custom Reports list for the user(s).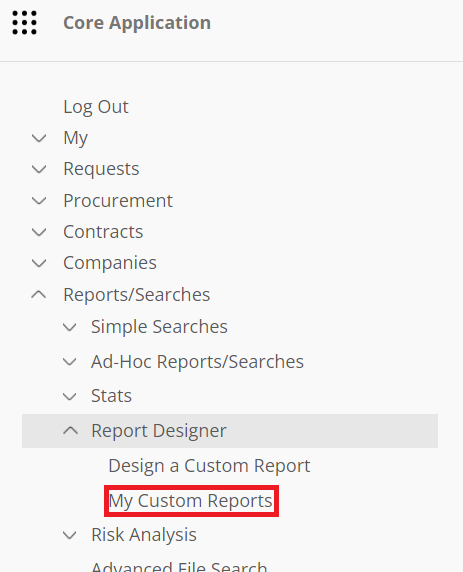 All custom searches assigned to the user will be displayed.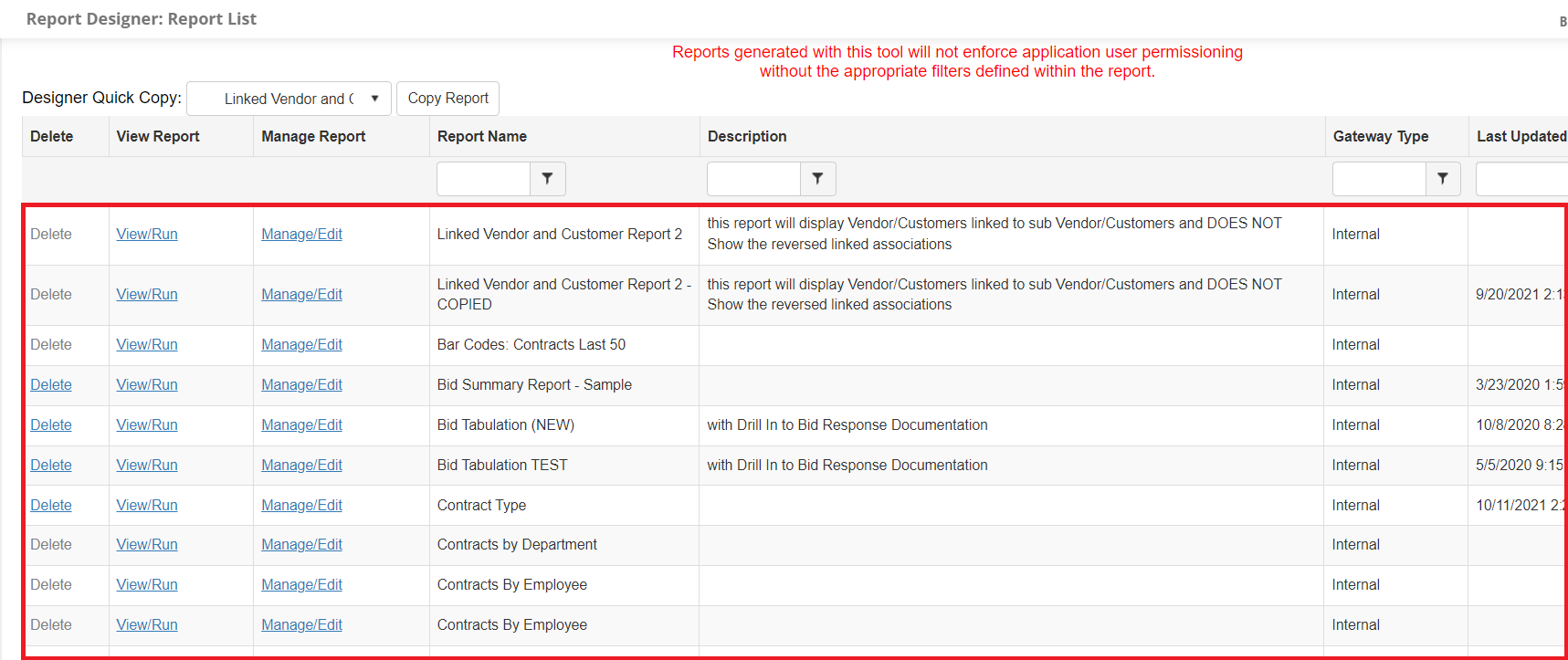 Viewing/Exporting Report Builder Reports
The user can view the Custom Report by clicking View/Run for the desired report.

The report will be displays within the black outlined box (with the ability to page through the results).

The report can be printed directly from the page by clicking on the Print icon.



The report can also be exported into a variety of file formats by selecting the Save icon and specifying the export format.



---
Was this article helpful?
---
What's Next