IntelliSign Process from Document Toolbox
02 Nov 2023

1 Minute to read
IntelliSign Process from Document Toolbox
Updated on 02 Nov 2023

1 Minute to read
---
Share feedback
Thanks for sharing your feedback!

IntelliSign Process from Document Toolbox
CobbleStone® IntelliSign: from Document Toolbox

From the Contract/Request Details screen, under the Files/Attachments section, a red toolbox next to each file is presented.



Click the toolbox icon. The option to Esign the document is present.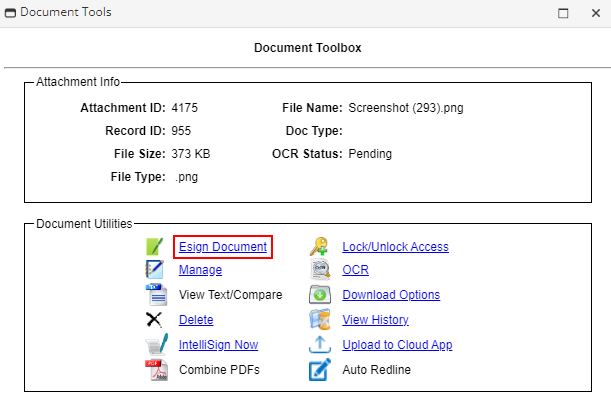 After clicking the link, the option to use the CobbleStone® IntelliSign tool displays.
Note: An option for Adobe Acrobat Sign and/or DocuSign is here as well. In order for this to function, a Contract Insight Connection module has to be purchased and then set up in the Application Configuration settings.
Click CobbleStone® IntelliSign to proceed.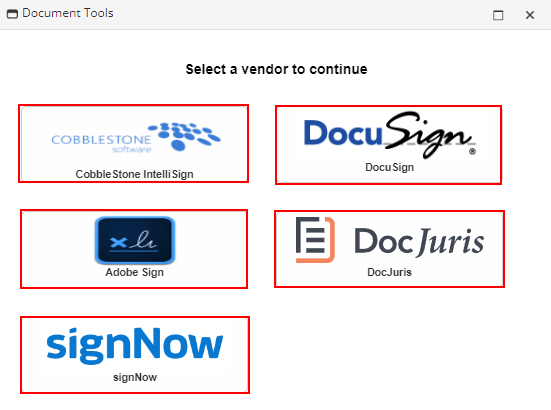 Next, a pop-up window on which the option to select from among all files associated with the record displays. Select a file, title the process, indicate if signatures will be allowed anywhere on the document or if the signature areas will be specified. Lastly, designate the employee to oversee the process.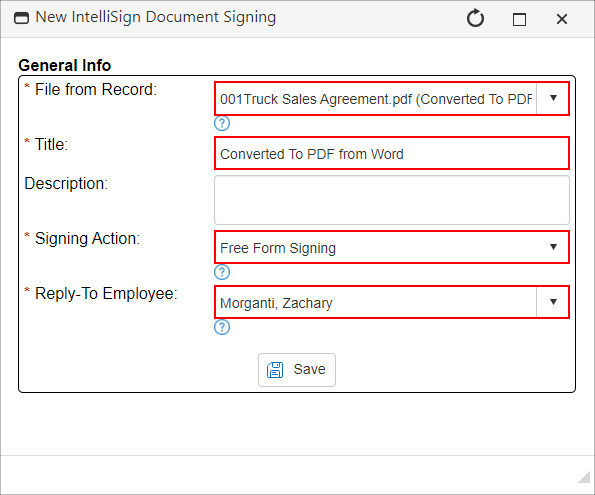 1. File from Record - determine which file will be electronically signed in this process.
Note:

This will default to the file for which the toolbox icon was clicked.

2. Title - title for this IntelliSign process
3. Description - brief description of the process (optional)
4. Signing Action - if signature placeholders will be set up for signers or if they can select where to sign (Free Form Signing)
5. Reply-To Employee - the employee notified throughout the signature process for each action taken. (This will default to the user initiating the process. More employees/users can be assigned to be notified before beginning the process)

---
Was this article helpful?
---
What's Next