Contract Checklists & Milestones
04 Nov 2022

1 Minute to read
Contract Checklists & Milestones
Updated on 04 Nov 2022

1 Minute to read
---
Share feedback
Thanks for sharing your feedback!
Contract Checklists & Milestones
Contract Details: Checklists & Milestones
Contract Insight offers users a way to track milestones throughout the contract life cycle through checklists. They are best used for documenting contract status changes that occur.
Access the Checklists & Milestones section of the Contract Details screen by either clicking Checklist on the side menu of the page or by scrolling down the screen.x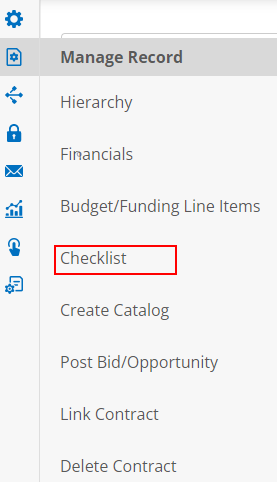 Either method goes to the same area.

Adding a Checklist

1. Click Add Check-list Item in the Checklists/Milestones box on the Contract Details screen.

2. Enter all the required information to be recorded for the milestone.

Note: Items that are grayed out will be auto-filled by the system upon clicking Save & Continue.

3. Click Save & Continue to save the milestone and open the Milestone/Checklist Details screen.

4. Click Return to Contract Details button on the side menu to return to the Contract Details screen. Click Delete Record on the side menu to delete the milestone/checklist.

Viewing/Editing a Checklist or Milestone
1. To view/edit the milestone/checklist, click the Pencil icon (

) for the line item you would like to edit. The Milestone/Checklist Details screen displays.

2. Click the Pencil icon (
) next to the line item to edit to view the details and/or edit the milestone.

3. An Edit Field screen displays on which the value can be changed. Click Save Record or cancel the changes by clicking the X in the top-right corner of the window.
---
Was this article helpful?
---
What's Next